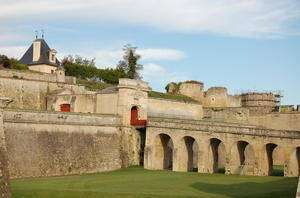 Blaye - Places to visit near Chateau Fengari
If the lure of the pool, the lake and the tennis courts aren't enough to keep you firmly planted in the grounds of the château during your stay, we thought we would introduce you to some of our favourite local haunts.
Blaye - A UNESCO World Heritage Citadelle
One of our favourite places to visit is the UNESCO World Heritage Citadelle of Blaye, just 45 minutes from Château Fengari and on the banks of the estuary, Blaye has the most wonderful views, a lovely old château ruins to explore, city walls and during the summer, the most wonderful fireworks for miles around on Bastille Day (14th July).

The citadelle of Blaye also plays host to a number of small artisanal shops and restaurants. Whether you're looking for a casual meal out with family, a smart meal with special guests or even to do a spot of antiques and souvenir shopping, Blaye will have a shop for it! Our favourite of all, especially during the summer months, is Lily à la Vanille, an artisanal ice cream parlour which has the most wonderful flavour combinations (salted caramel ice cream with a scoop of tiramisu ice cream for me please!).
Beyond the citadelle is a modern city, which really comes alive in the summer months. The port is also the perfect place to hitch a ride with the local ferry and explore the estuary a little more. The banks of the river are renowned for their estuary lamb, as well as for the vineyards that make up much of the Blaye region.