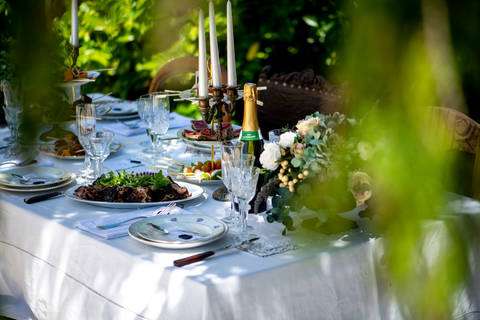 Planning your wedding catering
Planning your wedding catering, like planning the rest of your wedding should be done as a couple and should be fun and reflective of your personalities. Make sure that you understand the different choices available to you before you book anything!
The first step of planning your wedding food is to discuss with your partner your ideal wedding. Not necessarily exactly which dishes you want (although that always helps) but what kind of vibe you are after for your big day. Are you looking for a formal seated meal, with silver service, or are you looking for a relaxed boho day with grazing platters and casual dining? Maybe you're after something in the middle, and want a grazing starter and a seated main course?

Pretty much anything is possible, if your budget allows it, so think about what really matters to you. What's actually going to make your day even more special without adding layers of stress?
Seated wedding breakfast

A seated wedding breakfast is the traditional choice and is picked by many couples for good reason. A seated breakfast is a great way to make sure that everyone gets to taste everything, that there is very little food waste and it's also fantastic for helping guests to get to know those that they are sat by in greater depth. It's a sure fire way to introduce a level of elegance and sophistication to a meal. The downside is that guests who don't like something will have no choice in their meals, that seated menus tend to be more expensive per head and that you will need more waiting on staff than in more casual layouts.
Buffet style wedding breakfast or grazing tables

A buffet style wedding breakfast is a great way of keeping things moving and allow guests to mingle and meet new people. You don't have the stress of table plans or worrying about who you seat next to whom. It's a great way of ensuring that guests only have to eat food that they like, because they pick what's on their plates. It's equally wonderful for children who can have a tendency to be fussy when presented with a plate of beautifully presented food! It's great for a casual feel to the wedding, and for ensuring that guests feel unhurried. The downside is that there is more food wastage, and that guests can sometimes end up queueing for a long time for their food, so you need to make sure that there are enough serving stations for the number of guests that you have.
BBQ, hog roast or bring your own

More commonly associated with the evening meal or with a next day meal, there is always the option of a really relaxed BBQ or hog roast. You could even ask all the guests to bring a dish with them, and have a potluck supper. This saves a lot of the costs involved with catering for a wedding, but does of course mean that you won't have control over what food is served at the wedding, or over whether or not there are 15 different potato salads brought out but no proteins! A barbecue can be run by professionals still, to ensure that you have none of the work of running it on the day, but all of the fun of a BBQ wedding.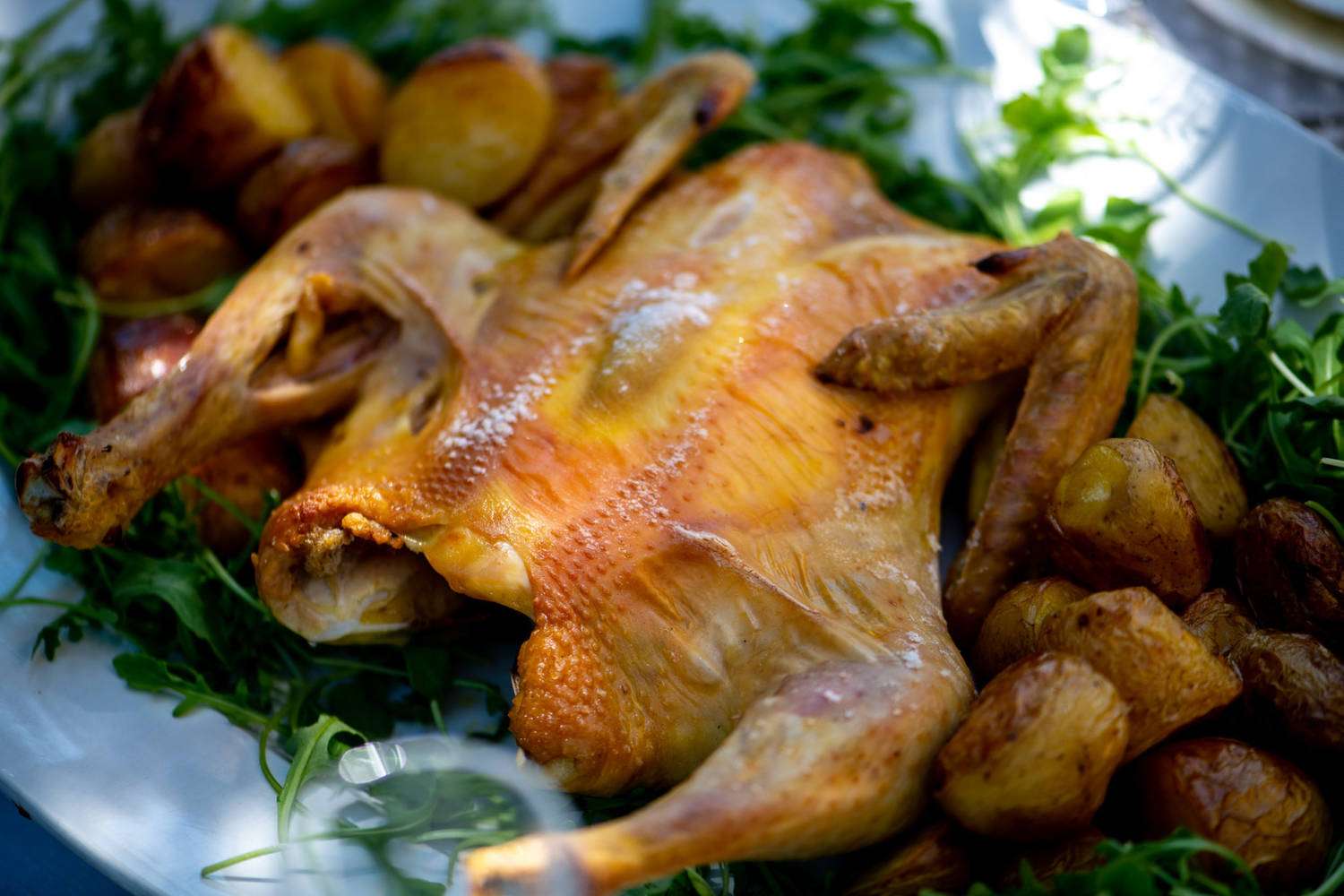 Once you've chosen the style of your wedding food, it's time to find the right wedding caterer. You can usually get a great initial idea of caterers from their Instagram and social media pages, or their websites, but not always! Some caterers (especially those in France!) are rather behind when it comes to social media and websites and their online presence can be a little lacking.
The best bet it to contact them directly and ask for their sample menus, which should give you a good idea of whether or not they're going to fit the style you're after. It also gives you the chance to see the budget of a variety of different options so that you know that the prices you have been quoted are reasonable.
At this stage, it's sensible to find out what is included in your package; including waiting on staff and drinks, your price per head suddenly looks expensive compared with a caterer that has a whole list of add on options that you need to make your big day a big success.

Sit down with a raft of menus and work out the actual cost per head, with them all including everything you need. You might need to go back to caterers and ask for additional quotes for any missing items.
Once you've worked out the style of food and the budget, the caterers should start to sort themselves by their menus that they say they can do, but don't be afraid to ask if they can do something different if you like their style but their menus don't suit your day. Some caterers are known widely for one thing, but will happily cook other things just as well, so do check.The worst that can happen is they say no, and you're no worse off than if you didn't ask.
Remember that you need to factor in the cost of feeding your vendors on the big day too, as your band or waiting on staff will need food!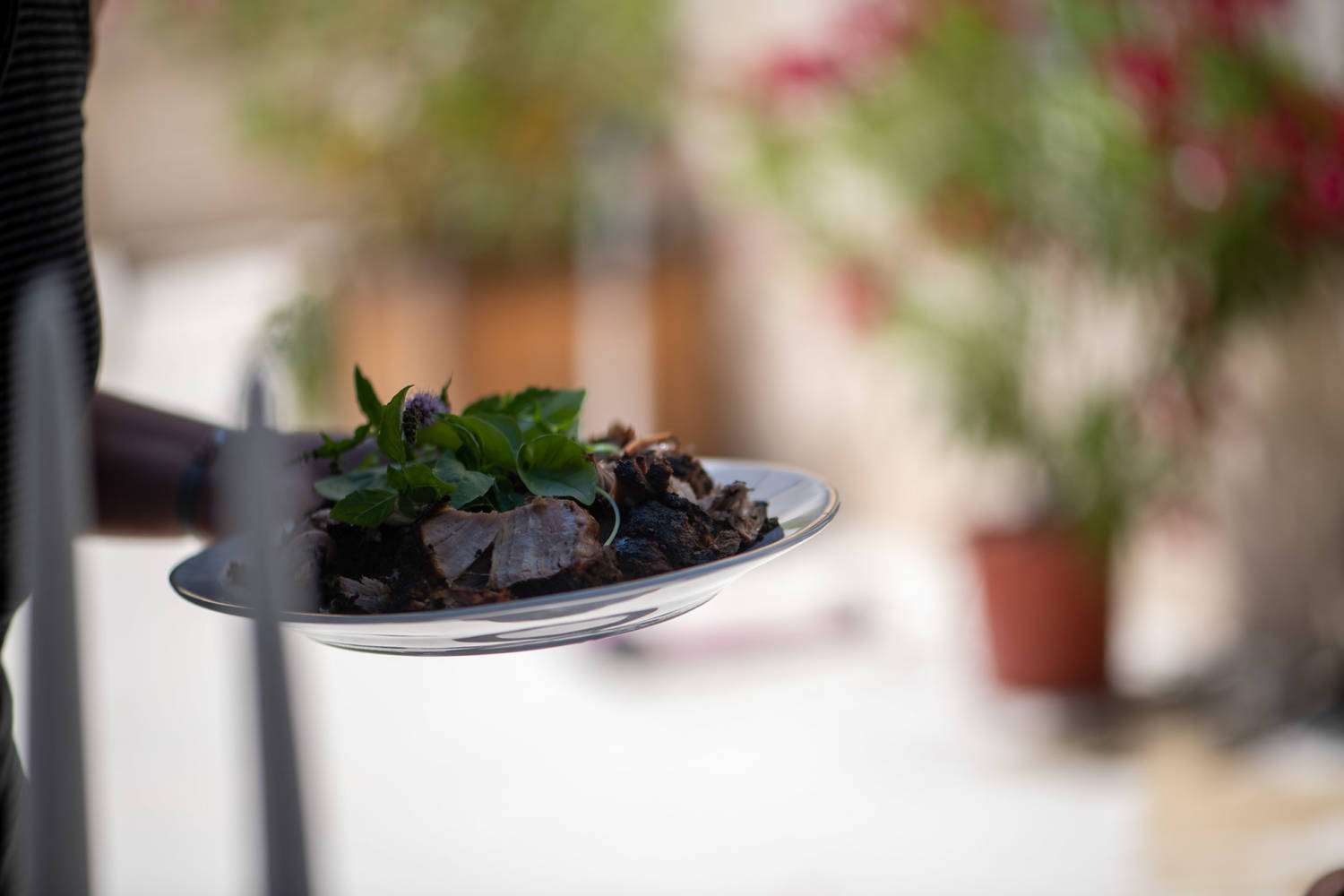 So you know your rough budget per head, you know the style of food that you want, and you now know which caterers are going to fit with those requirements. It's time for the fun part; tasting and working out your menu.
Some caterers will offer tastings of their menus so that you can try the food for yourselves, but not all will do so free of charge. Be aware that there might be charges of up to and even beyond the full menu cost per head to try it out. Some caterers may not even offer tastings.
If you are having a tasting, it's a good idea to have hashed out a rough menu first, to make sure that you try food that you're actually planning to have. There's no point tasting slow cooked pulled pork if you're wanting a totally vegetarian menu!
If your caterer doesn't do tastings, ask for client details of people that you would get a recommendation from, and follow them up.


The caterers is one of the first things that you book after booking a wedding venue and can either be a really scary or a really exciting step towards your big day. Just remember to pay your deposits on time and to secure your caterer early as the best ones book up months or even years in advance in some cases.

All photos in the article are from Le Cochon Pendu.