You may have questions which will hopefully be answered below. If you have any other queries please don't hesitate to get in touch by emailing or phoning us. We're happy to help.
The house and grounds will be exclusively yours for the day to give you and your guests complete privacy. You and your suppliers will be able to access the house from 8am to set up and it'll be yours for the entire day all the way through until midnight.
The main hall, overlooking bushy park is approximately 9m x 8m. We are licensed in this room to hold civil ceremonies for up to 150 people (120 seated and 30 adults standing on the balcony area). If this area is not required for a civil ceremony then the hall makes a wonderful room for the drinks reception. There are 2 fires which can be lit on request. The grand piano may be played by a professional player during the ceremony and drinks reception.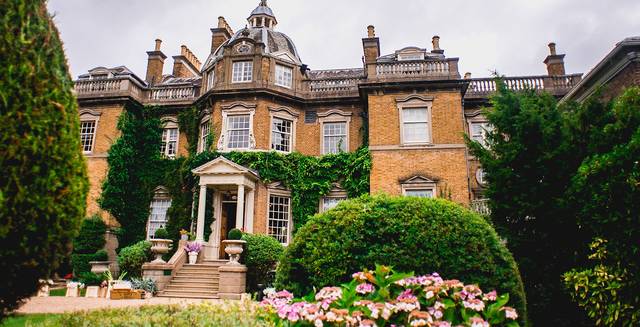 The gallery overlooking the main hall may be used as a standing area during the civil ceremony. No children are allowed on the gallery due to H&S reasons. The gallery area access is then closed after the ceremony.
The great dining hall complete with a stage measures 15m x 9m and has the capacity for 150 guests for a sit-down meal. Hampton Court House provides round tables and chairs. There are four tall candelabras that each hold 13 candles. If you would like use of these you will need to bring the candles along with you, candles should be approximately 3 x 3 inches. As the party gets going, all care must be taken to avoid guests accidentally bumping into them. Hampton Court House is not responsible for any injuries or damage to clothing.
The conservatory measures 11m x 9m and is available for dancing with plenty of space for a band or DJ. The ceiling of the conservatory has LED fairy lights, perfect to set the mood for the evening party. You will also have use of Hampton Court House's bar. The conservatory leads out on to the terrace palm garden.
The flower corridor is the corridor connecting the main hall and the conservatory. You may display your own personal photographs hanging from the walls on hooks or on boards that Hampton Court House can provide. There is a cloakroom for coats and belongings located next to the flower corridor (second door on your right).

The dining room and conservatory are accessible by wheel chair from the garden. Lavatories in both the main hall and dining area accommodate wheelchairs.

There is no wheelchair access to the main hall and flower corridor due to a short flight of steep stairs and steps. However, manual lifting to navigate these steps can be arranged with the help of someone from the wedding party.
Seating and tables is provided throughout the house including sofas and chairs in the main hall, sofas in the flower corridor and chairs and tables in the dining room.
All wallboards and desks will be removed from areas used for your wedding/event (there will be some chairs and tables in the cloakroom).

The ladies and gentleman's lavatories are close to the dining room and there are an additional 3 mixed lavatories close to the main hall. All will be provided with soap and paper towels and there is the option of bringing luxury toiletries with you to display in each.
The gardens are very private and can be entirely protected from public view. The garden is complete with a heart shaped lake, shell grotto and palm trees.
The playground equipment, lake and plunge pool are strictly out of bounds and should not be used by guests. This is for H&S reasons. If you would like to discuss the option of having a children's area please contact our Events team.
The grounds can accommodate large marquees for 500 people. Marquees can be erected on the grounds by a professional marquee company. They should be erected on the day of event/wedding with access to the grounds from 6am and it should be taken down by 8am next day.
You are very welcome to have a firework display at your wedding/event. Fireworks have to be carried out by a certified company and should abide by statutory requirements and should finish by 11pm.

We have a fabulous list of 10 preferred and approved caterers who will work with you to create the perfect menu for you, all can be found on our preferred suppliers page.
Whilst we advise you to use one of our caterers there is the option to hire an external caterer for which there is a £1500 charge. All caterers must provide a food hygiene certificate, public liability insurance and adhere to the house terms and conditions. Terms and conditions can be supplied by the Events Team upon request.
You may bring your own alcohol with no corkage charge. We can allocate you a 2 hour time slot for deliveries, normally the day before your wedding/event.
Delivery time is from 16:00 18:00 during term time and during the holidays it can be between 8:00 - 10:00.
Delivery times will be confirmed with you in the lead up to your wedding/event.
An inventory of kitchen equipment can be supplied by the Events Team upon request.

Caterers are responsible for removing the general waste and empty bottles from the premises. Failure to do this can jeopardise the return of the refundable deposit. This information is outlined in the terms and conditions for external caterers.
We have some great suppliers to choose from on our preferred suppliers page including caterers, DJs, photographers etc. There is an additional charge of £1500 should you wish to bring in an outside caterer that has been approved by the events team.
There is no extra charge for other outside suppliers e.g. florist, DJ, photographers. Copies of Public Liability Insurance for any outside suppliers will be required.
You're most welcome to add decorations to the house and personalise it how you would like. Decorations will need to be approved by the events team prior to the wedding/event. Please note that decorations are solely the responsibility of the hirer.

Candles can be lit in most areas and it is the responsibility of the hirer to provide candles and holders. However, candles should not be used in the lavatories for safety reasons.

Additional lighting effects
Additional lighting for inside and outside may be provided by a certified lighting company. There are sockets available on the grounds but power extension cables should be provided by the lighting company

Couples are required to book their ceremony with the Registrar at Richmond, you can do this online 1 year ahead of your wedding date. For more information click here.
On the day, the groom sees the registrar approximately 20 minutes before the ceremony followed by the bride. The bride will be greeted by the Venue Manager at the gate and shown to the registrar room through the side entry to avoid being noticed before ceremony.
The bride then retraces her steps to make her stunning appearance via the front door.
Address
Hampton Court House, Hampton Court Road, Surrey, KT8 9BS

Hampton Court House is 15 miles from Heathrow airport and 11 miles from the centre of London. The nearest station is Hampton Court which has direct trains from London Waterloo. There is also onsite parking.
The front car park has 40 parking spaces and there is an overflow car park that is located at the back of the grounds. The football field may be used to park some cars but only in dry conditions.
There is also a pay and display car park on Hampton Court Car Park. There is one parking space for disabled guests but more spaces can be allocated if required

Cars may be left in the car park overnight by prior arrangement but at the owners' own risk and must be collected by 10 am next morning. Cars left in the car park for longer may be towed away.
Front gate is 9 ft wide and double deckers can drive through and make their way to the front of the house. Coaches should be left at the top of Campbell Road

To ensure that every wedding/event is special and unique we request that the following should be taken into consideration:
Balloons are not allowed in the dining room because they are very difficult to remove
Blue tack or stickers should not be used on the walls
Sky lanterns / flying Chinese lights and confetti should not be used
Please do not park or drive over the grass areas
Please do not park at the front of the house, this area is used to drop off and pick up guests.
Cars should only be parked in the front and rear car parks
At every event we will have a Venue Manager onsite at all times who holds First Aid, H&S and Fire Warden certificates. The Venue Manager has the authority to ask a guest to leave should they deem that their behaviour is inappropriate.