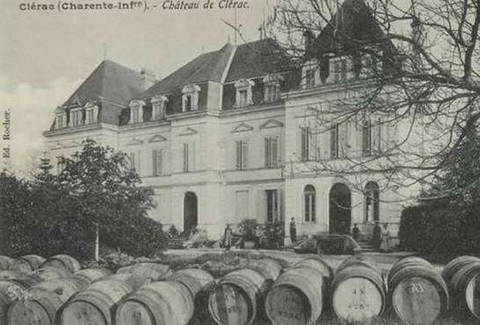 A Shaky Past
Château Fengari was built in the early 19th century for the Nau family. Jules Nau and his wife Marthe Delhuile. Jules was mayor of Clérac between 1884 and 1919...
He decided to help the town become more prosperous and created a dairy, a distillery and of course, a wine shop at the château! As the house gained popularity around 1880, the two side wings were built and a large kitchen created. In 1911, he asked Georges and Marie-Therese Nau to live at the château, and due to a lack of cooling water for the stills, the distillery was transferred to Teurlay du Lary.

In 1925, the wine business was closed with the death of Jules. Later during the second world war, Château Fengari played host to refugees from the "Depreux filatures du Nord" factories. German troops had other ideas and the refugees abandoned Château Fengari for five years. Suzanne Nau had inherited the castle, and left Clérac after her wedding, but came back with her three sons after the death of her husband Jean Roi in 1976.
At this stage, the château was still named Château de l'Espie. The Nau family sold the property in 2002, and in the years that followed, it fell into disrepair.
The Houstoun-Boswall family purchased the château in 2014 and set to work lovingly restoring it. Their hopes are to continue the work of restoring the chateau and protecting it for future generations. Symbolic of their wishes for the château, the name was changed to Château Fengari.
One of the biggest goals for the Houstoun-Boswall family is to make the château self-sustaining, thereby protecting it for future generations. In order to do this, a retreat centre was first created. 2019 marks the first summer of the château hosting weddings and events as well.
If you want to help support the château and protect it for the future, book your retreat place or event venue now.